Luxury Coach is a 12,000 sq ft service and RV sales center with a 6,000 sq ft storage facility located in central Ohio at 1629 Cascade Drive, in Marion, Ohio, just 45 miles north of Columbus.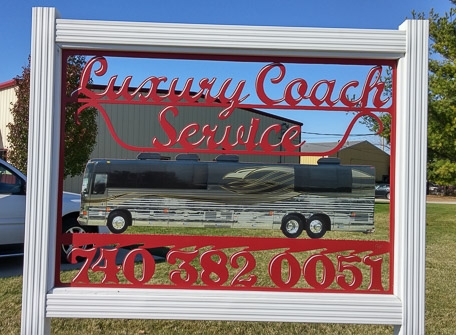 Luxury Coach is also a licensed used RV dealership and service center for all makes and models of used motor homes and coaches. We buy, sell, and/or trade vehicles in addition to motor homes and coaches. Luxury Coach also provides consignment services for customers wishing to sell their boats, motorcycles, trailers, sports cars, muscle cars, and/or hot rods.
Not only do we sell coaches but we also service them as well. We are an authorized service center for American Coach, Country Coach, Liberty Coach, Marathon Coach, Monaco Coach, Newell Coach, Parliament Coach, Royale Coach, and Prevost. We also provide service for Class A – C motor homes.
Custom Painting
A Luxury Coach special service includes a 65-foot paint booth for custom painting and vinyl graphics installation to customer specifications in any design desired. Enclosed are pictures of some of the different types of vehicles that we have recently painted. All of these pictures are full paint, not decals. Most paint jobs are done in Base Coat Clear Coat or Tri Coat. Some things like semi trailers and train cars are mostly single stage. All Clear Coat paint jobs are wet sanded and rubbed.
Upgrades
Not only are we equipped and able to handle any mechanical repairs, but we also perform interior upgrades as well. Anything needed from new carpet, granite and marble flooring to new ceilings with mirrors, new upholstery to new furniture, sidewall to step well upgrades. We are also able to relocate walls, build bunks or build complete interiors. We can also upgrade your current TV's to plasma or LCD flat panels. Countertops are not a problem either, we are an authorized dealer for Corian or we can fabricate them out of granite.
Parts Dealer
We are also an authorized parts dealer for IBP, DTI, Prevost Parts, MCI Parts, Awnings by Zip Dee, Relative to Motion, KVH, King Dome, Track Star, Coleman, Norcold, Dometic A/E, Cruise Air, AAP, Executive Air Systems, WTI, Aqua Hot, Webasto, Tow Master, Blue Ox, Interstate Battery, Head Hunter, Microphor, and numerous others.
Onsite Storage
Looking for storage options? Inside and outside storage is available through Luxury Coach for your boat, motor home, car, or motorcycle.